WorkgroupShare gives your organization the ability for its staff to share Outlook

information without the unnecessary expense of Exchange Server. It consists of a server program that is installed on one computer and an Outlook extension program that is installed on each computer that runs Outlook.

It will work with all versions of Outlook from Outlook 2000 through to Outlook 2003. It can even share data between different versions of Outlook.
When a user is given access to other users' information or to public folders, a hierarchy of folders is created under a Shared Information folder, which is created alongside the other Outlook folders. If the user is given at least read access to one or more of John Doe's folders, then John Doe will appear as a folder under the Shared Information folder, with the relevant folders listed as sub folders of the John Doe folder.

Periodically, Outlook will communicate with the WorkgroupShare server at defined intervals in order to synchronize itself. It performs the synchronization using standard Internet protocols. This means that it is not only possible to synchronize Outlook with other users' information over the LAN, but also from a remote location, over the Internet.

The synchronization process happens in the background allowing the user to continue working uninterrupted during this time.

WorkgroupShare gives an administrator full control over the information that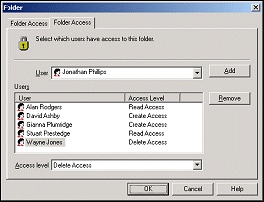 specific members of staff have access to. For example, you could give one person full access to another person's calendar and you could give read-only access to the same calendar for the rest of the organization. Additionally, you could create a public contacts folder, which you could give every member of staff access to.

Every person who wishes to share Outlook data must be added as a user into the WorkgroupShare administrator. Users can be added to one or more groups, and thus take on the security profile of that group, much like the way NTFS access permissions are set. This makes it very easy to add a holiday calendar, for example, and give all staff read-only access to it by making only one security setting change.

The following table shows the per user cost (in US Dollars) and price breaks for each edition of WorkgroupShare.


| | |
| --- | --- |
| User Pack | Price |
| 5 user pack | RM 566.00 |
| 10 user pack | RM 1,121.00 |
| 15 user pack | RM 1,615.00 |
| 20 user pack | RM 1,881.00 |
| 25 user pack | RM 2,090.00 |
| 50 user pack | RM 3,020.00 |
| 100 user pack | RM 5.300.00 |
| 250 user pack | RM 11,380.00 |
| 500 user pack | RM 18,810.00 |
| Unlimited users | RM 26,400.00 |